Greystones 14 Lansdowne 0. Dr Hickey Park. 02/10/10
GO HARD. GET WET. GO HOME.
On a day that you would only put a dog out in it if you really didnt like the dog, Lansdowne killer Bs took their first wobbling steps in the league 2010, otherwise known as "THE GROUP OF DEATH" !!!
On the road to wicklow for the first round to meet greystones, theoretically having been training with the ducks in herbert park for most of the preseason, the elements should not have been an issue, but once the torrent was described by the greystones winger as 'balmy' we knew we could be in trouble....
A few new faces joined us this year, Donal Keane had a good debut at 15, marshalling the back 3 and generally keeping the stones backs honest. The two Roes enjoyed a baptism of fire for lads that had not played in a while, but coped well, with some big hits coming from the 'bigger' brother, while Barry added to a strong front row that caused all sorts of problems for stones in the scrum. Ben Beach, having been released from every club he has ever played with or against, and every priest in every parish he ever lived, also had a fine match. He is an all round no 9 and it feels good ! Credit to Rossy who coped well in the forwards for the first time since school, a new found respect has been found i feel...!
Andrew Tracey kept probing and got through a mountain of work which earned him a man of the match award, but alas it is on a couple of wayward seconds that the match turned...
A sloppy ball off the top of a lineout, and a simple enough lapse in defence turned what was looking like a nil all match into 14-0. And thus it stayed. All credit to stones who got the better of us yet again by using their ability to pin us into the corners for long periods of the second half, frustrating because we should have the ability to learn from our mistakes by now...
The 'floodlights' were turned off and the hairdryers were turned on. We will live to fight another day, but its one that got away.
This will not be an easy task this season. There is some real quality in our league. The decision needs to be made guys... Like keith said, Go hard or go home
Words and music: Philip McGoldrick
Pictures: Coach Smithy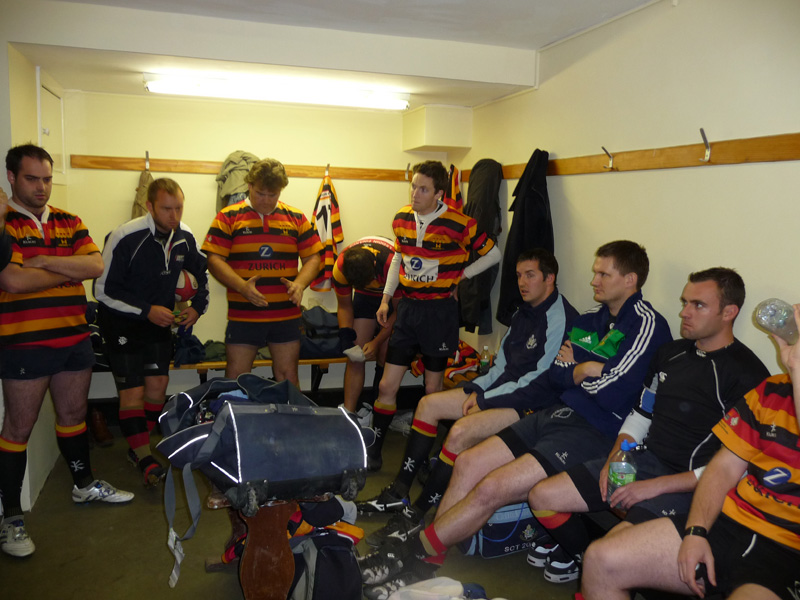 Caption Competition! Email peter_geo@hotmail.com
Check back next week for results.